Take Advantage of CertainTeed Roofing Materials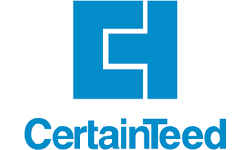 Started in 1904 as the General Roofing Manufacturing Company, CertainTeed is one of the world's premier manufacturers of roofing materials. Fortunately for us, they're also one of our primary suppliers.
We here at Olson have installed CertainTeed roofing materials on countless homes throughout the Chicagoland area, much to the satisfaction of our customers. If you're looking to have CertainTeed roofing materials installed on your roof, we're the company to call.
AN ENDLESS SUITE OF STYLES
CertainTeed roofing materials come in a number of different styles, allowing you to add your own aesthetic touch to your rooftop. Their styles include:
3-TAB SHINGLES
3-tab shingles are the most commonly used roofing material on the market today. These rectangular shingles are installed in a horizontal manner, creating a look that is similar to that of a brick wall.
Lending a great deal of symmetry to the homes upon which they're installed, 3-tab shingles are a great option for properties of all kinds.
SHAKES
Shakes are a great option for those who are looking to bring a unique look to their roofs. Available in a variety of shapes, they are installed in a staggered, asymmetrical manner.
If you want to set your home apart from the others in your neighborhood, shakes can help you to do so.
IMITATION SLATE
Designed to mimic the look of authentic slate roofing, imitation slates are layered, rectangular shingles that are simple, but aesthetically effective. Installed in an overlapping manner, they are entirely symmetrical, lending a clean, elegant, and balanced look to any house that they adorn.
VARIOUS PERFORMANCE CAPABILITIES
CertainTeed designs their roofing materials to excel in a variety of different areas. While their standard asphalt shingles are of very high quality, they also manufacture specialty shingles. These shingles are built to withstand varying conditions, and they include:
SBS MODIFIED
SBS modified shingles are asphalt-rubber hybrids which can withstand extreme amounts of wear and tear. Because they contain rubber, they tend to stretch instead of crack. This makes them hugely valuable in all kinds of climates.
If you're looking for a shingle that can withstand the harsh Chicagoland winters, look no further than SBS modifieds.
IMPACT RESISTANT
Impact resistant shingles consist of both asphalt and fiberglass, allowing them to hold up against extreme physical trauma. Not only can they withstand the effects of heavy rain and snow, but of strong winds and falling branches as well.
If you want a shingle that will last a long time, consider an impact resistant material.
ALGAE RESISTANT
When it comes to standard asphalt shingles, algae growth is almost always a problem. Fortunately, CertainTeed manufactures algae resistant to shingles to deal with this problem.
Designed to thrive in all climates, these shingles will keep maintenance to a minimum.
WARRANTIES AND GUARANTEES
As a reputable and respected company, CertainTeed stands behind all of its products, roofing materials included. Regardless of the CertainTeed roofing material you purchase, it will be covered by a manufacturer's warranty.
CertainTeed's manufacturer's warranty covers any damages which result due to flaws in manufacturing. In essence, you can rest assured knowing that, when you buy from CertainTeed, you're getting what you pay for.
PURCHASE CERTAINTEED ROOFING MATERIALS FROM OLSON
When the time comes to replace your roof, you would be wise to utilize CertainTeed roofing materials. If you're in need of CertainTeed roofing installation in the Chicagoland area, there's only one company you should call: Olson.
Our team of seasoned roofers has installed CertainTeed shingles, shakes, and slate on a variety of Chicagoland homes. We would love to make yours the next.
Contact Olson now by calling (847) 304-8713!